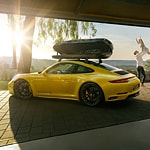 Rear engine sports cars have long been the desire of those who have a need for speed while also driving in luxury. No vehicle exemplifies this better perhaps than the Porsche 911 Carrera.
The Porsche 911 Carrera has long been synonymous with luxury while still packing a punch. This sports car contains up to 379 horsepower and has a mind numbing 0-60 speed of four seconds flat. This is more than enough power to feel the car jump at your command. Additionally, the Porsche 911 Carrera includes an interior to match the most refined styles. Drivers will enjoy the 10.9-inch touch screen where all aspects of the car can be controlled. Finally, enjoy the luxury of the available leather interior seats which look incredibly and feel even more comfortable as you drive.
Want to come visit us at Umansky Motor Cars for a test drive? Then come on down to see us today!