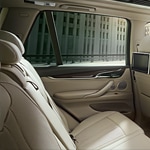 Out of all today's sport-activity vehicles, the BMW X5 is a standout. This four-door beast is more than just a pretty face. Consumers will receive the absolute best in automotive engineering, and that speaks volumes. Let's dive into some of the available features.
At first glance, you'll notice just how masterfully crafted this automobile truly is. The exterior of the BMW X5 demands respect as well as demands attention. This particular silhouette is ruggedly handsome thanks to its fine attributes. There's the brand's iconic grille as well as the SAV's huge air ducts. Exterior paint comes in various hues, such as alpine white, blue metallic, jet black, dark graphite and many others. Soft body lines can also be seen flowing around the body. Consumers can also expect roof rails, phenomenal LEDs and an overall athletic frame.
SAV enthusiasts are welcome to test drive this machine, but you'll need to stop by our location.