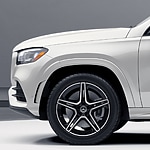 The 2023 Mercedes-Benz GLS is a luxurious SUV that combines style, comfort, and impressive capability effortlessly. With its cutting-edge features, this vehicle is engineered to deliver an unparalleled driving experience. Let's delve into the fascinating details of the 2023 Mercedes-Benz GLS capability features.
Unmatched Performance
The GLS offers powerful engine options, including a handcrafted AMG V8 engine, delivering exhilarating performance and responsive acceleration. Experience a seamless blend of power and refinement as you take the road ahead.